First I have to start with the day before the meet. The 25th of January was really a pain in the ass.
I got up and styled myself for work, and I had a really beautiful make up, but my first fault was to use perfume this morning. I always spray perfume on my wrists and my neck and for a finish I just spray it over my head and let the dust lay on me for a nice overall scent :33
BUT OF COURSE I JUST SHOT NOT OVER MY HEAD BUT A FULL SHOT INTO MY RIGHT EYE! WHAT THE FUCK HOW CAN ANYONE BE SO STUPID XDDD
So of course: BYE BYE MAKE UP! Had to wash my eye out of that "scent". After I washed my eye I just sat there and my mom told me to let my eyes rest and keep them closed until, I don't know, at least 10 minutes are over. My eye was fine after that, it just was a little tired and somehow I would have loved to go back to sleep. But I had to work. And that without any make up one, all of the people there had to think that I'm a ghost or something XDD
At work happened a lot of other shit too. The customers were highly unsatisfied because all the counters on the second floor were closed and they had to pay on another floor. It was really getting on my nerves that all customers were complaining to me although it wasn't my fault, because I was told to tidy up the floor.
The best of all was that I hurt myself everywhere that day, I rolled over my food with a shopping cart and hurt my arm everywhere. .___.
Anyway I finished my nails that evening and went to bed veery late because there was always something that I had to do >__< Like packing my bag and stuff for the meet.
For all people who don't want to know about the day before:
THE GYARU MEET!
On the 26th of January it finally was the day of the Gyaru Meet! I was so excited and so afraid at the same time because if you just browse the web you hear so many mean things about Gyarus and the whole community. I really spend a lot of time thinking about my outfit and I really liked it. Unfortuantely I didn't made a photo of me wearing my stuff, I planned that in for the morning but then I nearly was late for my train so I just let it be. I didn't want to be late!
At the trainstation everyone was looking strangely at me because of my outfit ahaha I was so pink XD :3
Yoshi and me, he was so kind to send it to me. I'm looking like 6 months pregnant, but you can see my dress here XD And wtf what do I do with my hand and my camera XDD Looks like I'm grabbing myself like Michael Jackson AHAHAH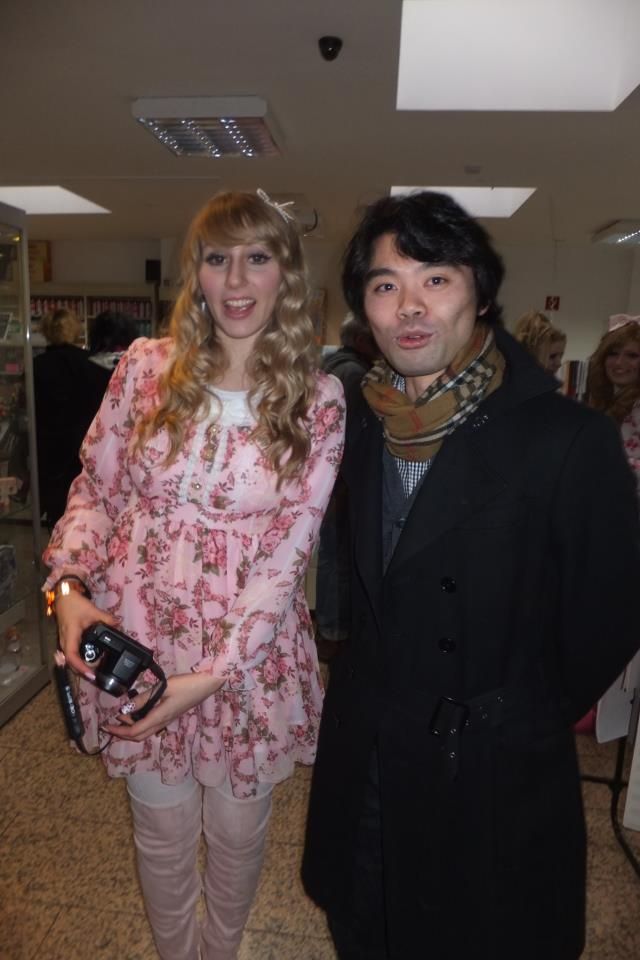 Totally crappy photo of us but you can see my dress, sorry yoshi for posting this ugly photo of us XD
I arrived 15 minutes earlier and of course my first nail detached. But I had everything planned and had the glue with me mu ahhaa!! I visited some shops before I actually found the group. I was standing in Düsseldorf Mainstation and thought "ehhh, are these the people I meet up with or do they belong to another group?" <-- I guess I'm too stupid to recognize Gyarus O.o ahah
I didn't know anyone so I just talked to the first people I saw and that was Anie, Daiana, Kira and Yoshi!


Anie and Daiana! :3 Daiana with her incrdibly loong nails, she was so cute and helpless with them ahahah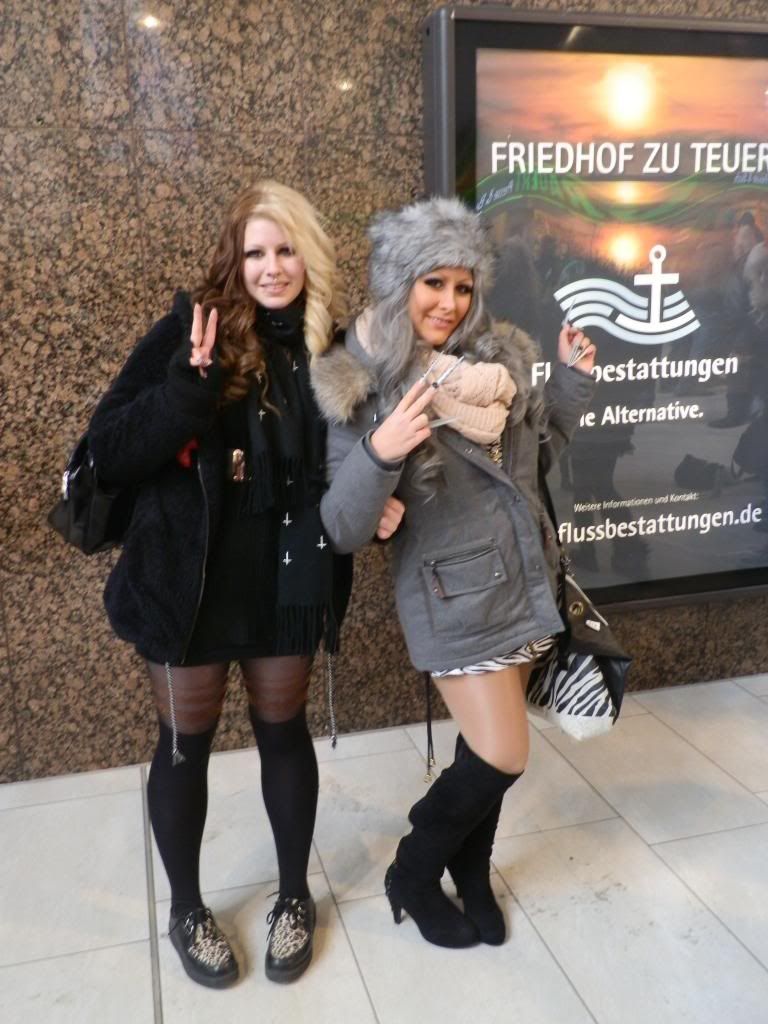 "Friedhof zu teuer?" AHAHAHAHAH They look so cute! :3
Yoshi was so kind to take a picture of our nails! Really Daianas nails were so awesome and I had to laugh everytime she called the other girls to do something for her because she was TOTALLY helpless with those nails ahah cute! :3
My nails on that day: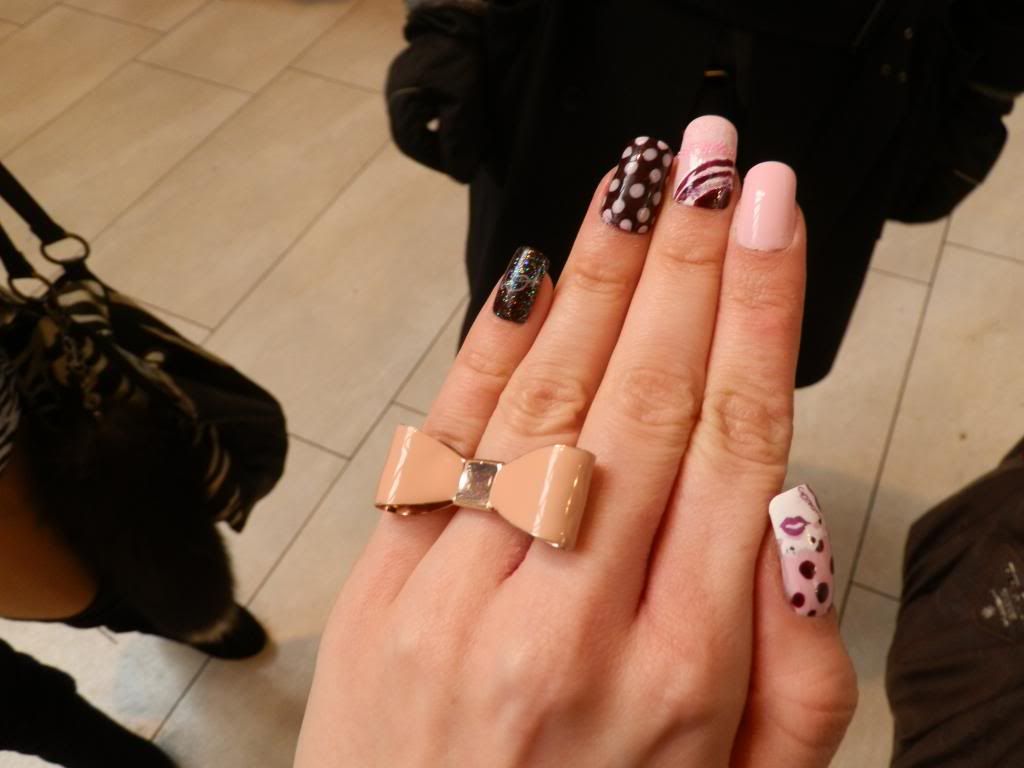 Left Hand (Reminds me of that anime where this guy called the parasite in his left hand well... "LEFT HAND"!! XDD)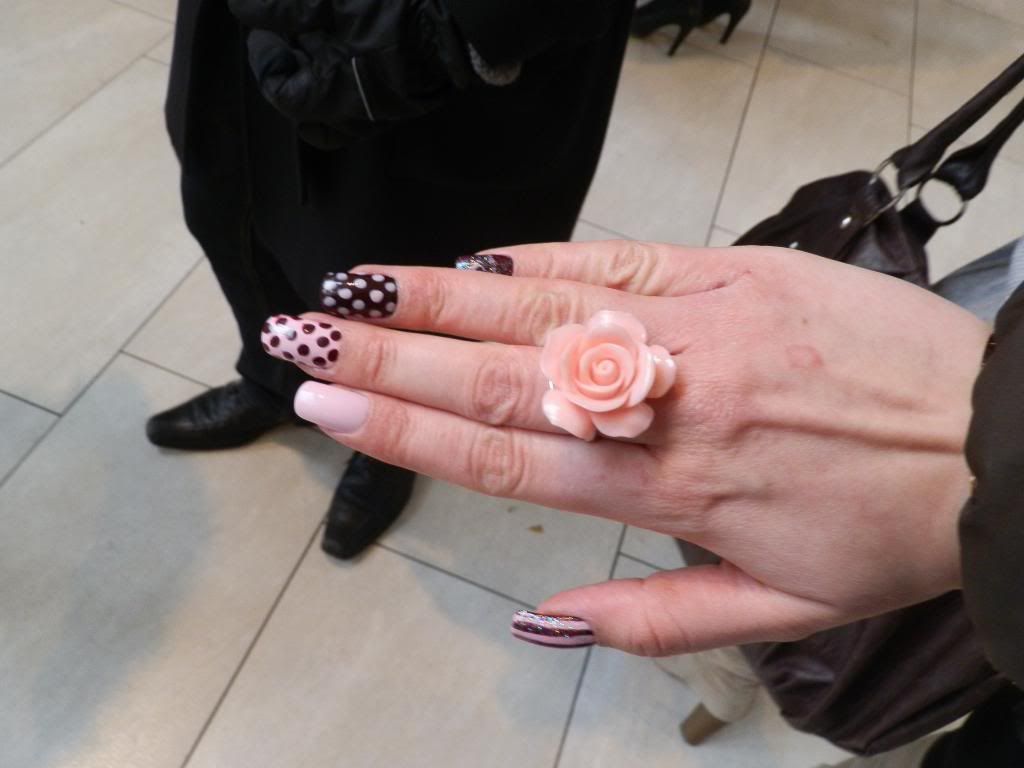 Right Hand. My nails were pretty simple, but some people said they were beautiful! Thank you guys, I did them myself and it was my first time O.o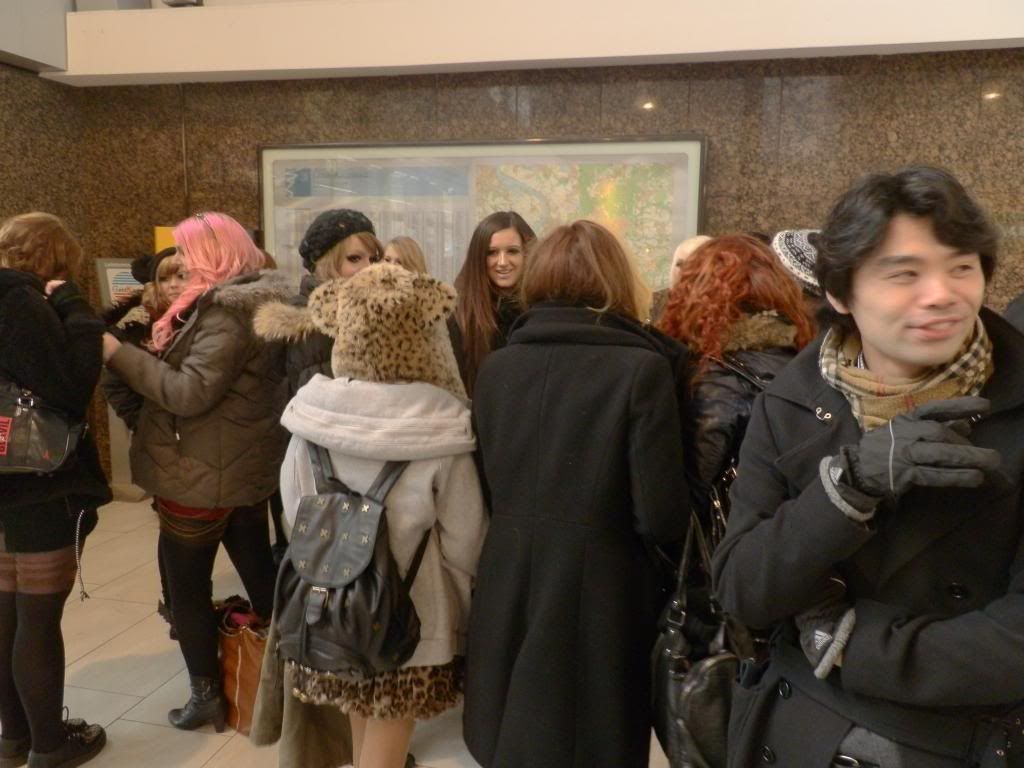 Random shot of some people of the group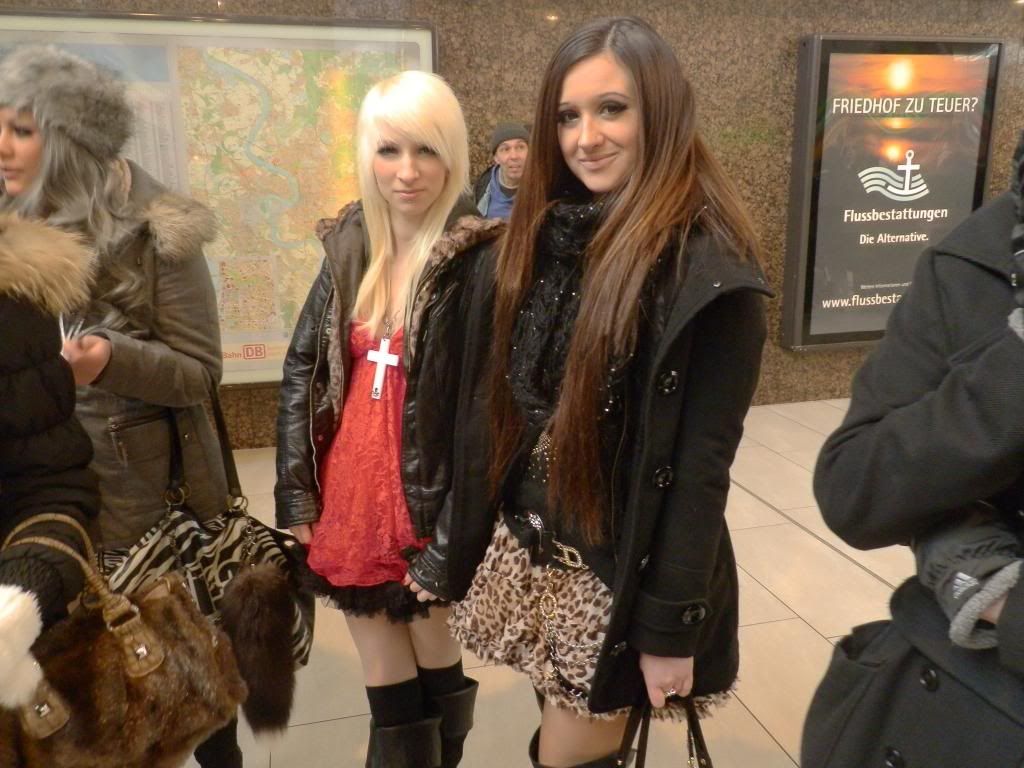 Shot of two cute girls, I forgot to ask for their names -___- I'm so stupid XD
We were 2 hours in the trainstation and waited for everyone to arrive ahah I was so cold ;__; I was so proud because I had my solution with me when Kitai suddenly lost her lens O.o Wtf it always popped out of her eye so she had to go back to the hotel. We waited for her and stand there and talked, it was fun :3 After she came back we made a group photo:
All people I talked to were very nice and so funny :3 We all went to the OCS shop to take purikuras. The poor stuff really, they must have thought we are some homeless freak show ahahah Sitting there on the floor, taking photos, drinking and eating although it's not allowed XDD But At least we all spend our money for purikuras!
While waiting for the purikura we did some camwhoring: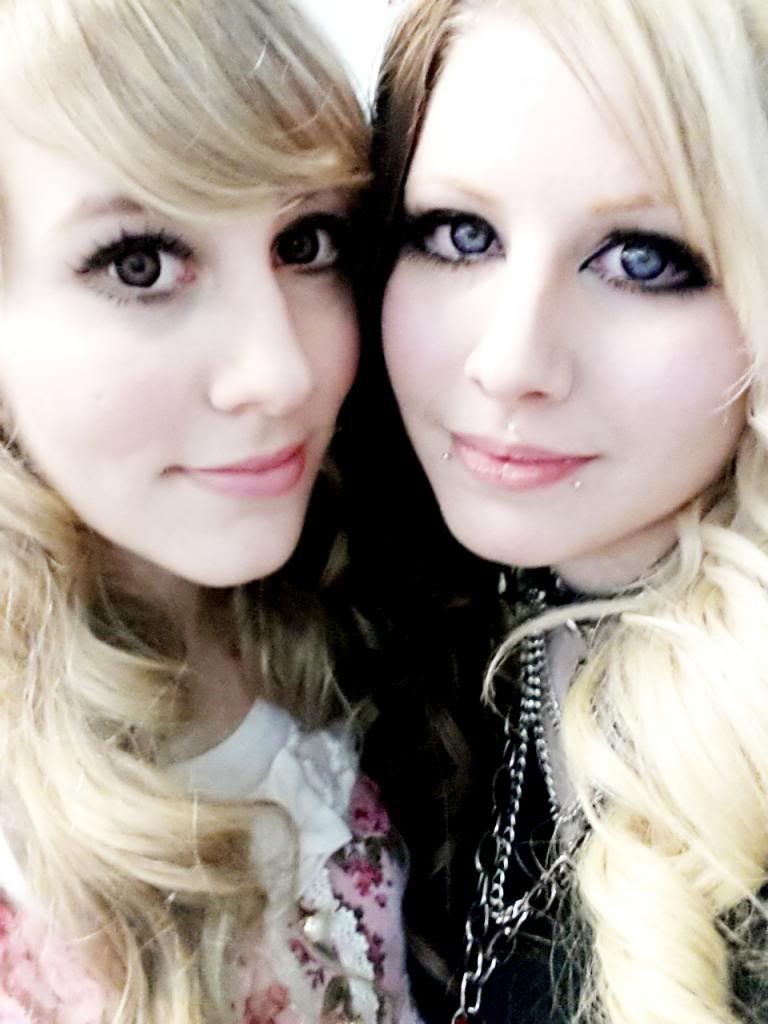 Photo of Anie and me! She has so beautiful eyes, the lenses made an amazing effect, I asked her at least a hundred times which lenses she was using ahahah
Kira and me!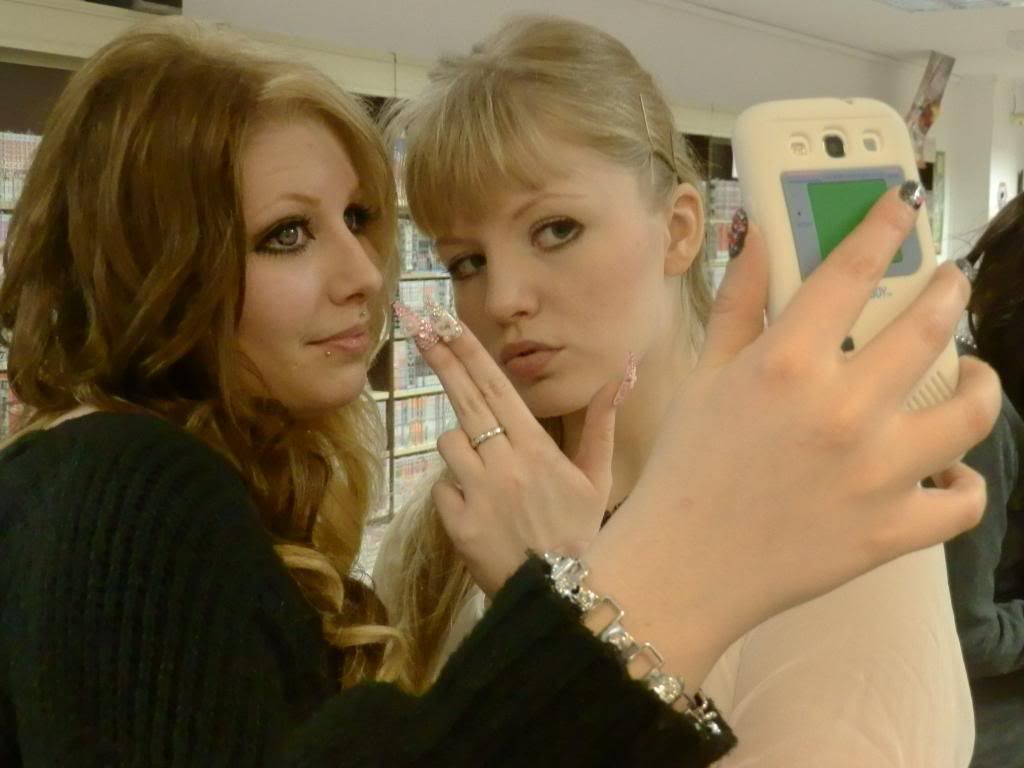 Anie and Kira camwhoring aahah XD
I really like this photo I took of Kira :3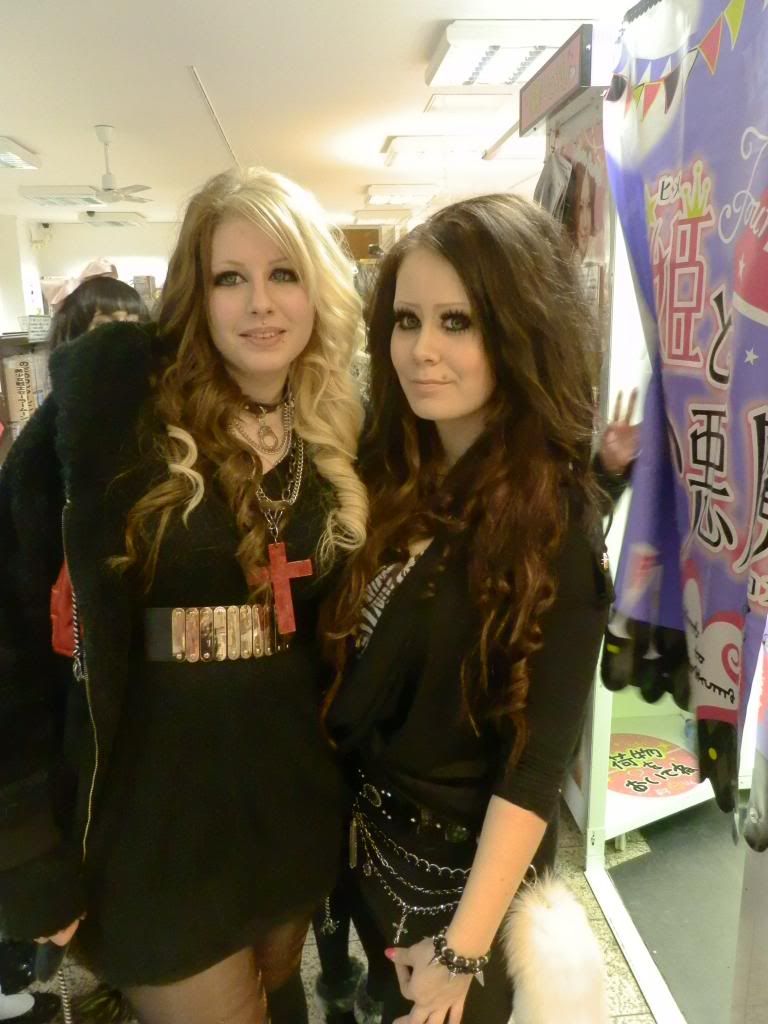 Anie and Kitai :3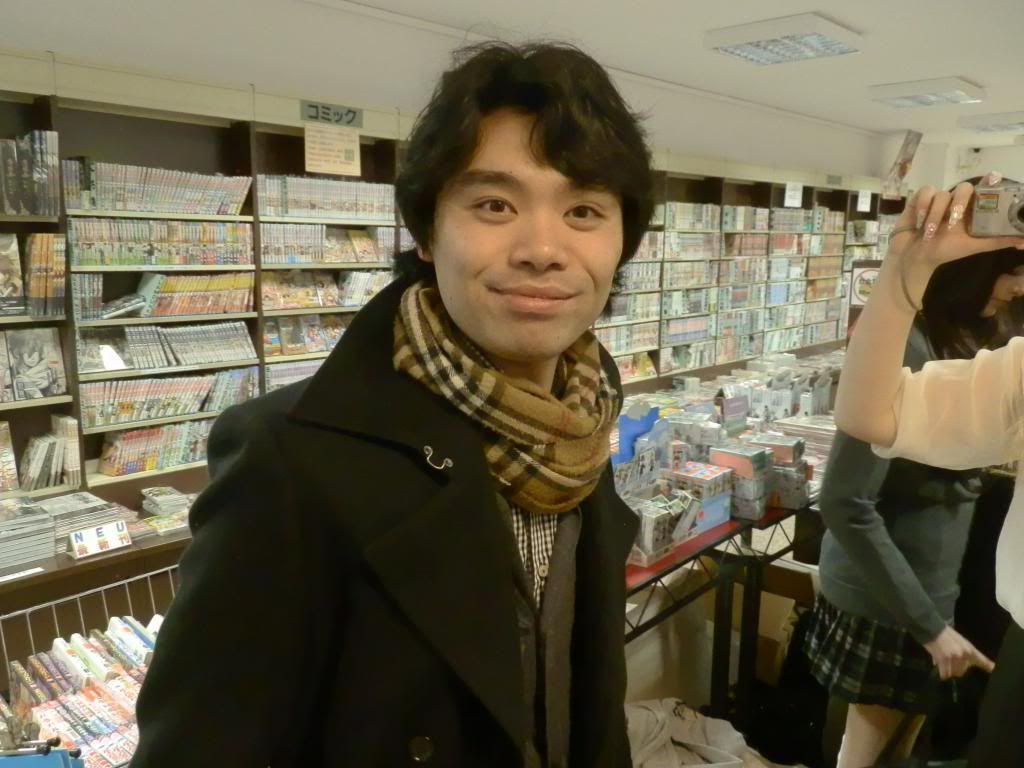 Yoshi! :3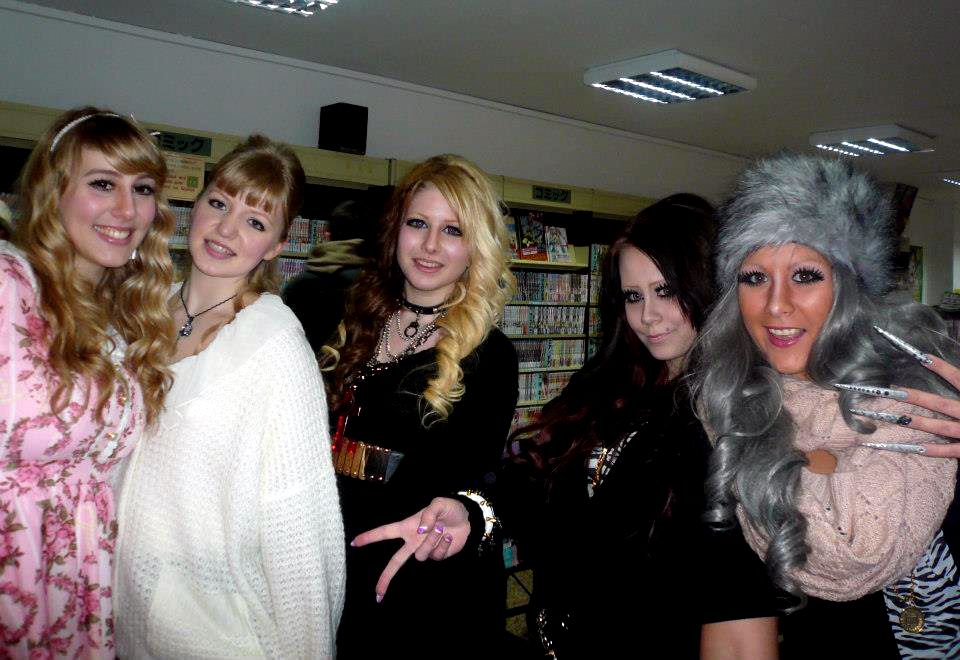 Picture with Kira, Anie, Kitai and Daiana stolen from Kitais blog! XD
After that we went to the "Don" to eat something, I had a really yummy Udon Noodle Soup with Kimchi:
So delicious but extremely hot O.o I had sushi too *__*
Caro, Kyo and Anie at Don! I stole that pic from Kyo's Blog XD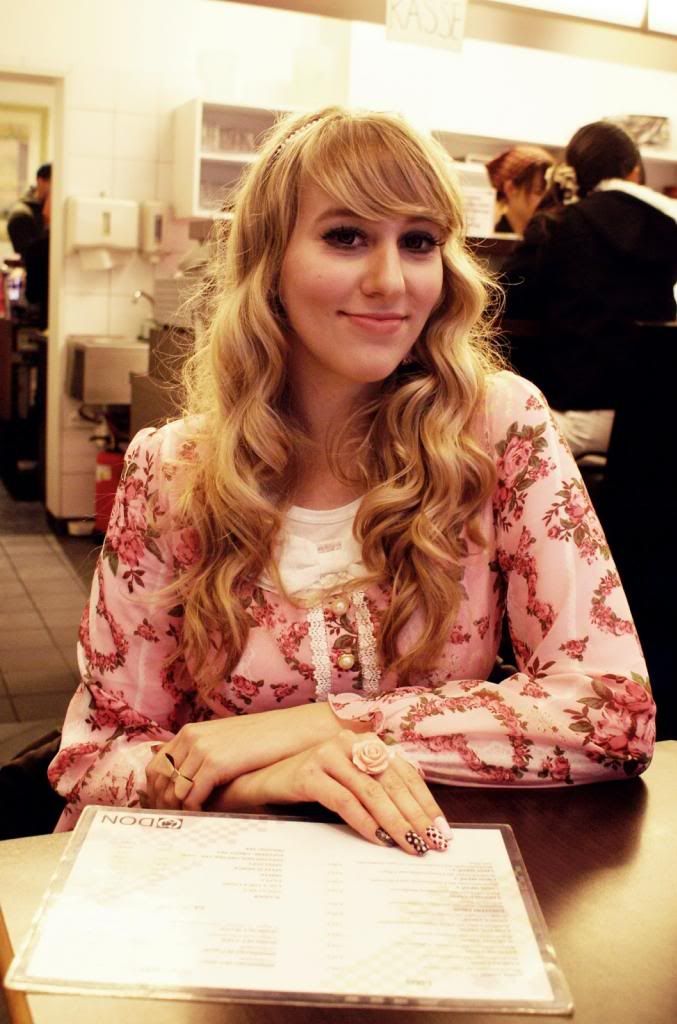 Kyo took a photo of me! Haha my face looks a little fat but I like it somehow! (stolen from Kyo's blog)
While we ate at don we looked at Wesleys "Men's Egg" AHAHAH God there were some sex positions in it and half naked girls. That's so typical XD I didn't took a photo of Wesley I'm so stupid! So I stole one from facebook:
This looks so like "Wesley and his Harem" and he poses cool, thats why I picked this photo! And of course: girls you look totally cute!! :3
We talked about so many interesting things and after we ate at "Don" we visited a cute little book store that had some gyaru magazines but they were so expensive wtf! O.o So I ended up buying nothing at all! XD
We ended up going to OCS again because Kyo desperately wanted to take more purikuras, but the shop was so damn full that we didn't made any although I would have loved to take some with her because she was so cute and nice! :3
So I just talked to some people and even to more gals from the netherlands ( sorry, I was just so embarrassed to talk in english, next time I have to talk with all of you much longer!) and I took some photos of course :3
Jojo and Ronja :3 Both looked really cute! I really like their outfits!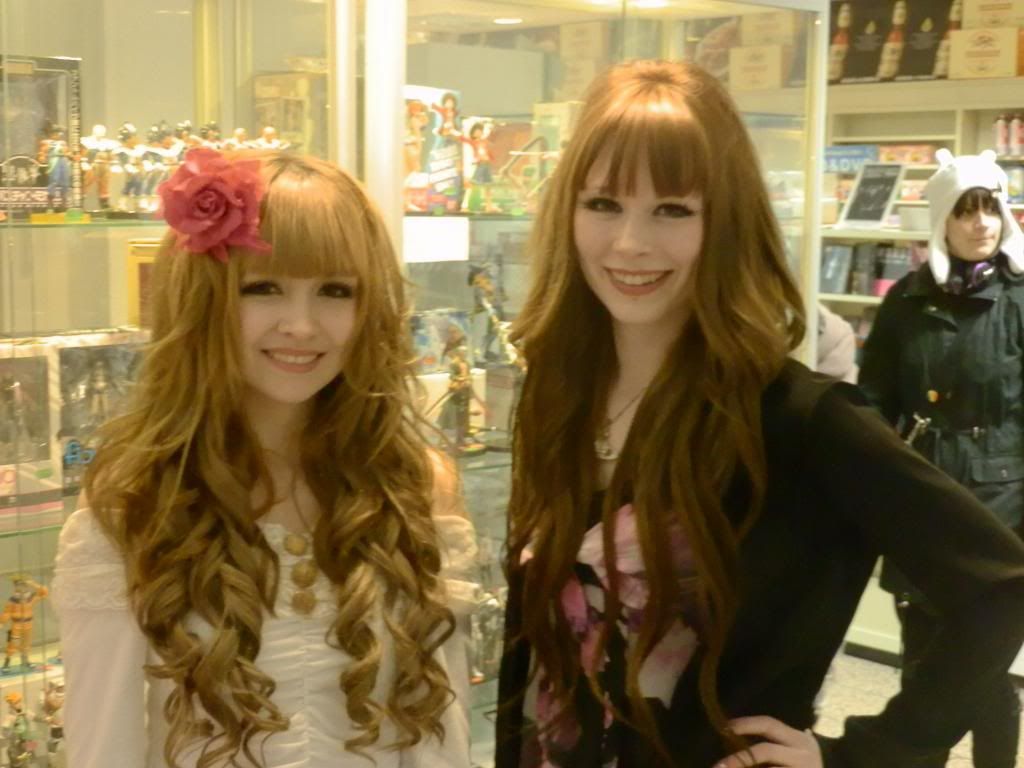 But they looked more beautiful when they were laughing! :3 Caused by some random guy who was disturbing me taking a photo of them! XD
I talked to Kyo and Jasmin a lot about many things and I took photos of them too!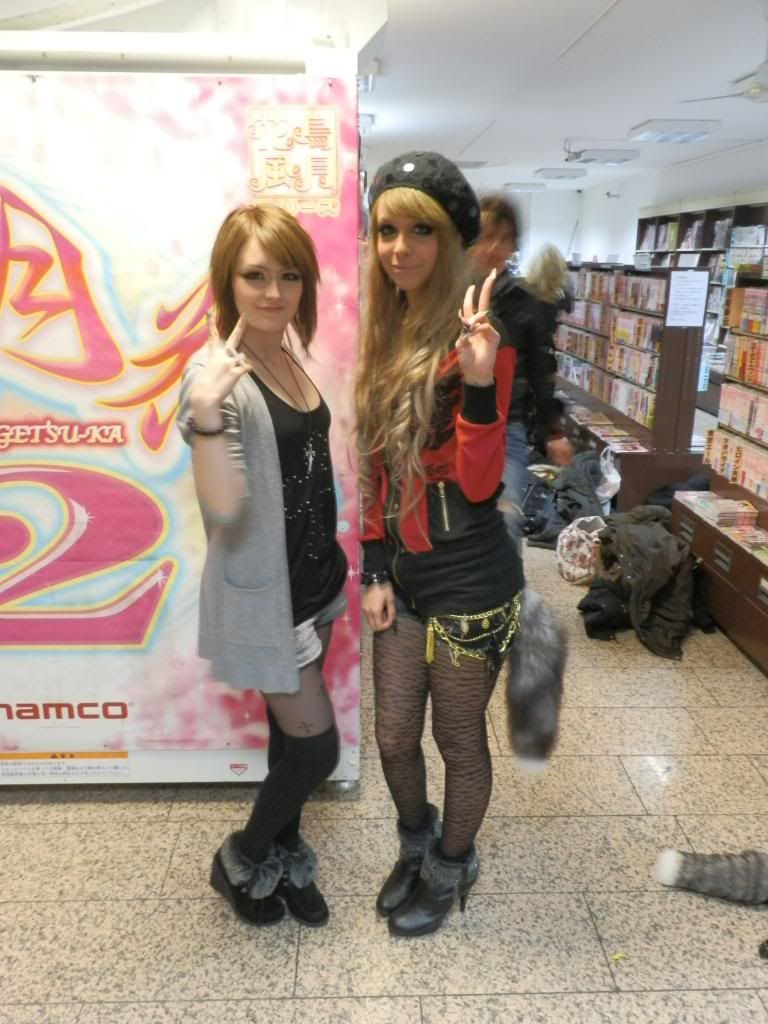 Kyo and Jasmin, Both so cute! You can already see Sasa on his way on disturbing the photo!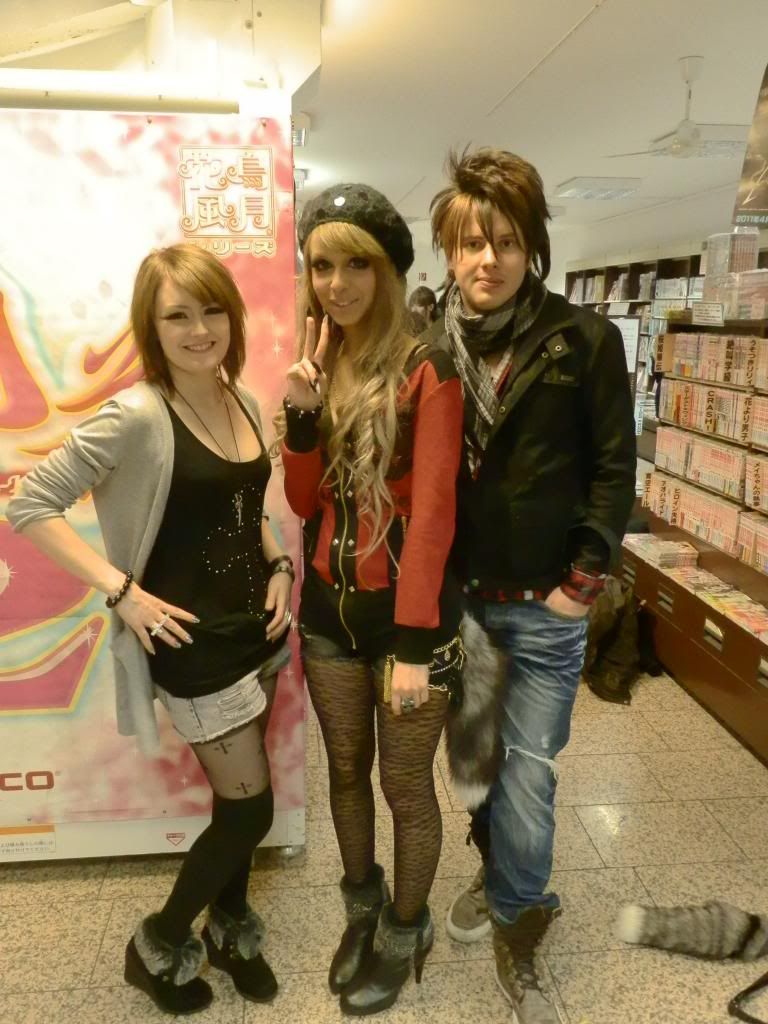 I told him to join the photos XD
I had to go after that. I walked to the trainstation with Jasmin and Kyo and we made a small pause at the Bubble Tea :3 It was so relaxing to just sit around and drink something yummy and I liked talking to you very much, I hope the next meet I join will be so much fun!
Unfortunately I couldn't join the drinking and the karaoke, I really regret it, but I was so afraid of driving all alone with the train at night O.o I always meet drunken Footballfans there -.-
When I arrived in Vohwinkel I waited for my Boyfriend to pick me up and I was so bored that I camwhored a little:
This is my best selfshot and this photo is photoshopped as hell AHAHAH I don't have a small nose like that but I wish my nose was like that. If you compare it with the other photos you clearly see the difference but I bet everyone uses photoshop for their blogpictures so I don't care! XD
Finally I finished this blog entry, it was such a photospam I'm so happy it's done!
Happy Valentinesday by the way! My boyfriend gave me a Rose and those cute Kitty Ear Hair Circlet in silver with pearls, it was the one from Asos! I'm so happy but too lazy to take photos! XD I bought him a shirt and made yummy Strawberry Cheesecake for him and it even tasted nice O.o ( I totally can't cook or bake anything ahah)!
Finally some Purikuras of Anie, Daiana, Kira and me:
I just love Anies Mustache and Daianas Face wtf XDDD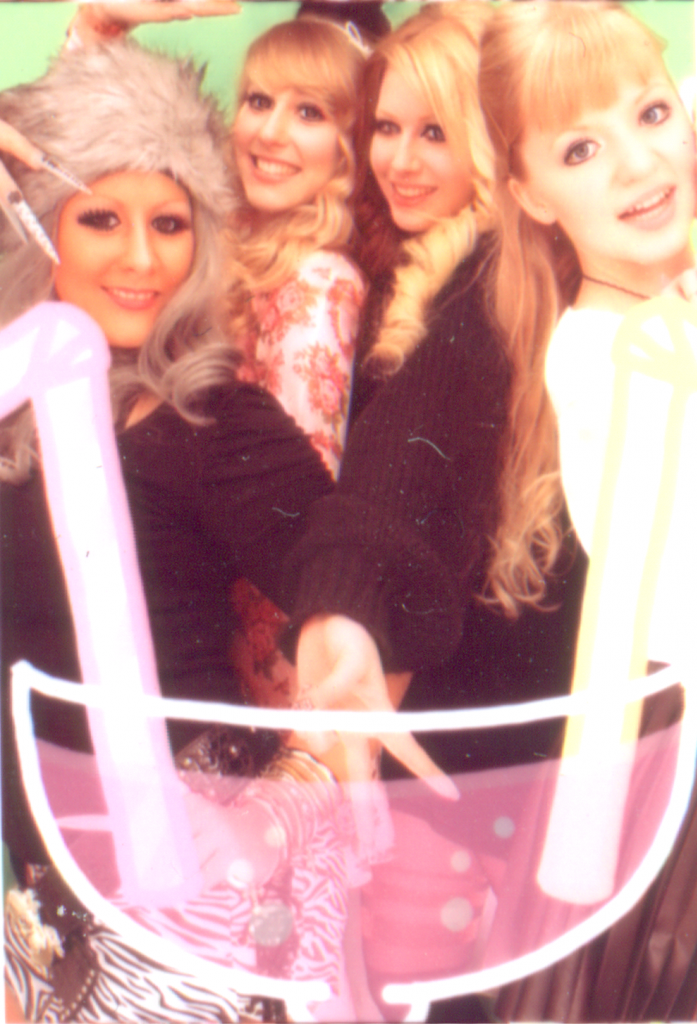 I wish I had awesome curls like Daiana and Anie! ( Ich sag nur "Streckeisen"! XDD)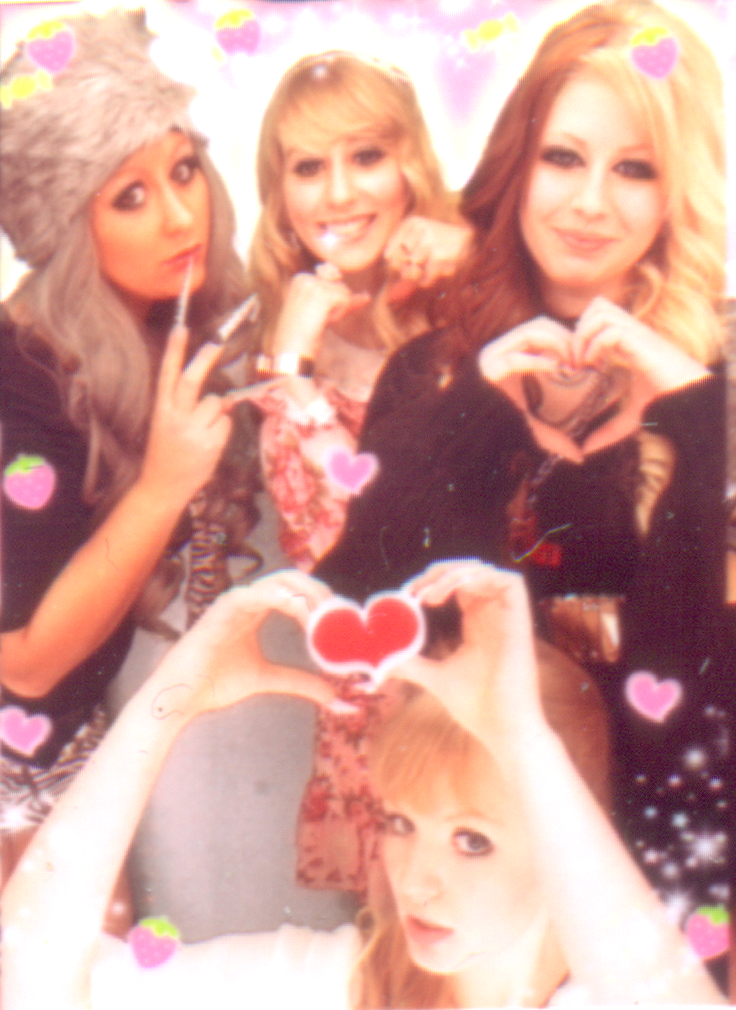 Yeah Diamonds in my face and what the hell is Kira doing there? XD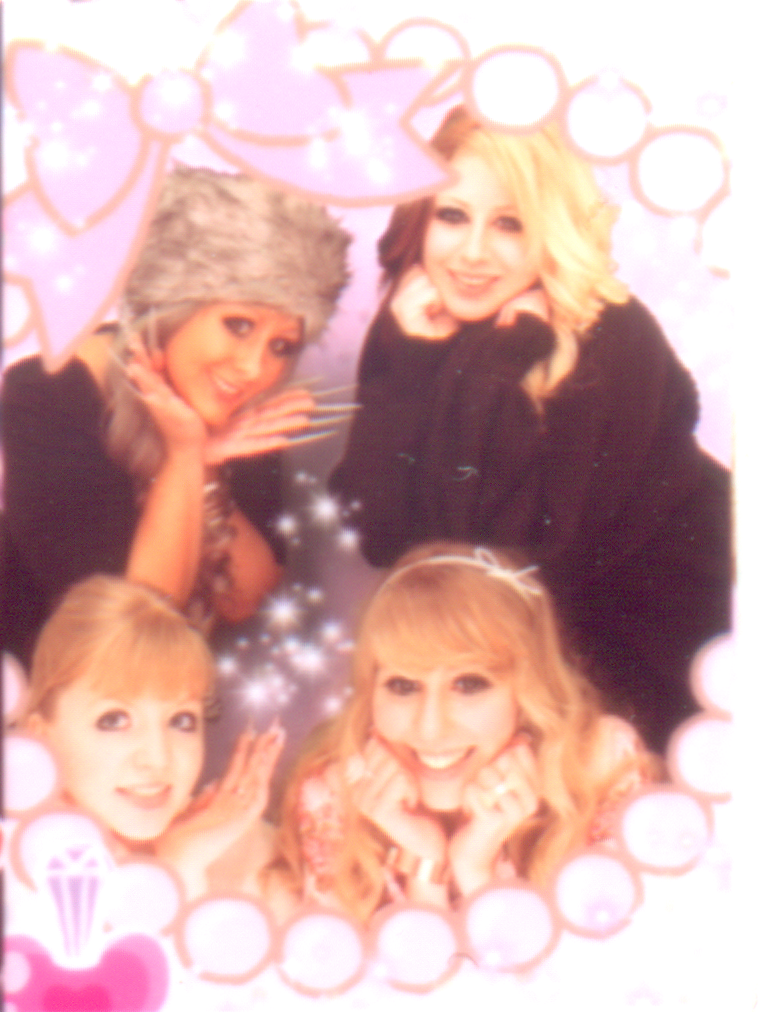 I cut them out badly but I just don't have the strength to do it better XD
Favourite Music:
Lin G - I Want You (I want summer ;_________;)
Kim Sori - Dual Life
Glam - I Like That